.::.Appearance & Basic Stuff.::.
❆ Male❆
❆ Arctic Wolf❆
❆ Heterosexual❆
❆ 48 inches tall, 72 inches long❆
❆ Paws are 8 x 7 inches❆
❆ Frost weighs 165 pounds❆
❆ Copper/Bronze Orbs, outlined by black.❆
❆ His pelt is pure, snow white. He has no other coloring besides white. His pelt is very thick all over, especially in his mane. Frost's fur is also very soft, long and flufffy all over.❆
❆ Frost's overall appearance is that he is pretty tall, with a long face, thick mane and a lot of muscle mass. The way his mane is really resembles that of a male lion. Also, his ears are small, but high and tipped. His nose is black.❆
.::.Warrior rank is preferred, but ultimately he doesn't care.::.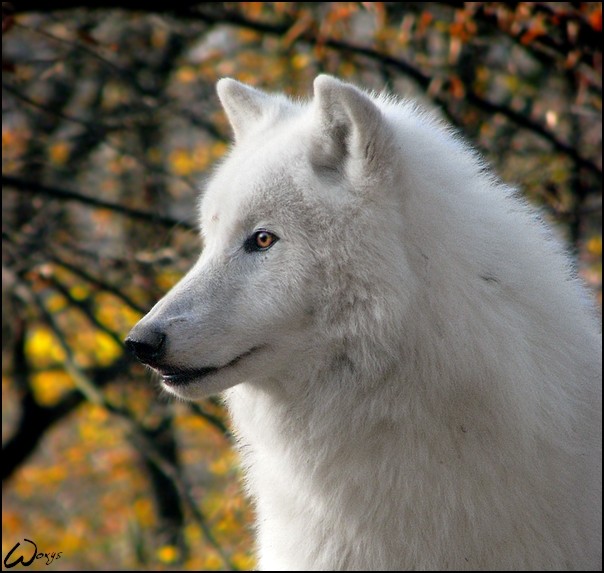 .::.Personality.::.
❆ Usually he is serious, loyal, protective and mellow. He rarely smiles, if he smiles at all. He is apathetic and straight-faced through everything. He's impossible to read or predict. If he loves you, he's very sweet and nice and he will open up, but good luck busting down the walls he has built. Some wolves he'll see as competition. So he tends to show off around those wolves. Wolves he views that way though are few and far between.❆
.::.Love & Hate.::.
❆Likes = Snow, Rain, Cold, Water/Swimming, Whoever he likes❆
❆Dislikes = Heat, Whoever he dislikes (mainly those who challenge him or go against who he likes or is loyal to and protective of.)❆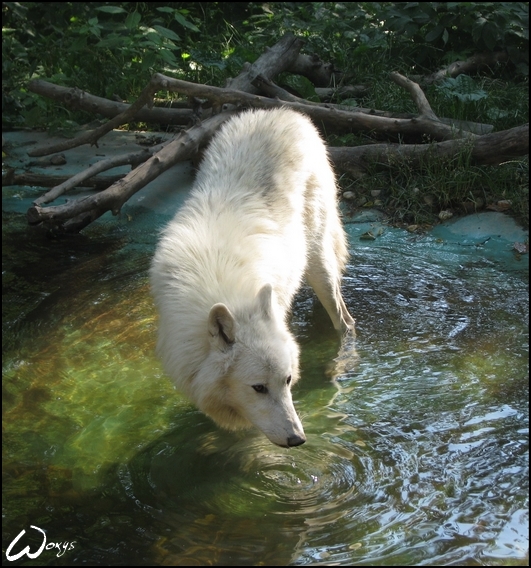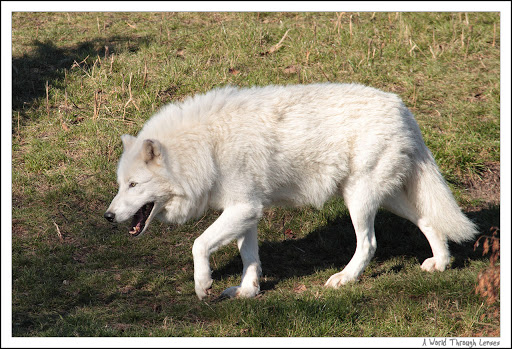 .::.Strong Against Weak.::.
❆Strengths = He's strong, he's loyal, he's a fighter and a hunter, he's protective, he adapts❆
❆Weakness = His varying personality makes him unpredictable, apathy makes many think he is heartless and soulless, his color makes him stand out and can be easily spotted when it's not winter❆
.::.Who He Knows.::.
❆Family = Father: Glacier - Unknown, Mother: Isis - Unknown, Siblings: none - all deceased at birth❆
❆Friends = Best friend is Ryker, other friends are whoever❆
.::.The Love Life.::.
❆No Mate❆
❆No Crush (he has yet to meet the special one that accepts who he is)❆
❆No Pups❆
.::.The Backstory.::.
Frost's father was a very strong wolf. He originally was an alpha, but a rival alpha drove him out. He had the choice to stay or to leave. Glacier was young but he knew he'd lose to the rival if no one else. If he had stayed and fought and lost, the rival more than likely would have killed the then pregnant Isis as well, and any members in that pack that stayed loyal to Glacier. So Glacier stepped down and allowed the rival to be Alpha of Glacier's pack and his own, hoping he'd treat the pack well. The rival banished Glacier, so Glacier left with Isis. A den at the base of the mountain is what they found, that is where they stayed, and where Isis had Frost and his brothers and sisters. But as mentioned, no pups lived but Frost. With the combination of two large packs, a lot of food was needed, and so food became scarce because the rival now owned two packs and two territories.

Born first of his litter, Frost was the only pup to survive the winter. Food was too scarce and it was too cold. If they didn't freeze to death then his littermates starved. Since he was the only pup left alive, Frost got all the love and care he needed, as well as all the training and so he grew up well. His father had all the time in the world to teach him all about survival skills such as fighting and hunting. He got trained from dawn till dusk everyday, and so he is highly skilled in those areas. A master if you will. His father also trained him to show no emotion to anyone but those he loved. Glacier told Frost that he must become hard like a mountain or a tree. He told him to perfect his strength so much that it would be like staring at a rock instead of a wolf, and that it would be intimidating to many others to appear so unbreakable and dominant. But he told him that he should show his true side when it came to wolves he trusted and loved. In hunting he does his best in winter because he blends in so well with the snow. One with the snow sort of thing. Any other season, he struggles because his coat makes him stand out too much. He can fight whenever and wherever. He hasn't lost yet, and his fur is too thick to see any scars.

Frost was about one and a half years old, again in the winter, an avanlanche ocurred on the mountain where he and his parents resided below. The snow buried their home and Frost survived, but he doesn't know if his parents did or not. He hopes so, but again, he has no idea. With a destroyed home and no family Frost became a loner. Being a loner meant he had to fight for everything and push himself beyond his limits. The more hunting and fighting he did, the more he learned, and the better he became, just when he thought he could get no better than what he already was. However, along his travels he also faced an insane amount of ridicule. Every wolf he came across thought he didn't deserve to be in their resence because he was no more than a mere subspecies. To make matters worse, no one approved of his coloring. They claimed it was too feminine for a male, and too much of a handicap. They all tried making him an Omega. Frost did not approve of this. Just as his father ordered him to, Frost made himself hard, cold and emotionless. As his father predicted it intimidated many, but also pushed away many. The rare pack here and there that was willing to accept the brute found themseves fearing him. They too revealed negative feelings. Telling Frost that he was a heartless monster. That he had no soul. It wasn't true, he just didn't trust them or care for them enough to show the normal side of himself. After spending years wandering and taking so much negative attitudes, Frost was molded into the wolf he is. Becoming numb and emotionless. He has yet to meet the right pack that will accept him or at least tolerate him enough to gain his trust, loyalty and affection.